CONFIGURABLE NURSING UNITS
Easy installation
Wireless or wired I / O devices
IP44 "Ready"
Frequency of social alarms
Low battery alarm
Clear LEDs to indicate status or function
Can be adapted to any care environment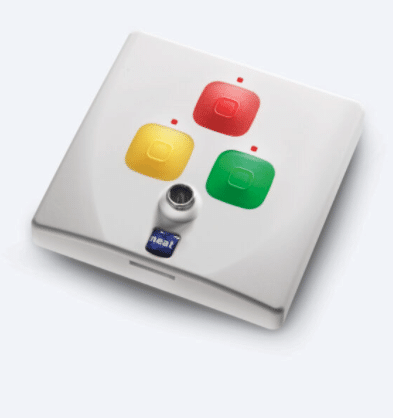 PRACTICAL AND ADAPTABLE TO THE USER'S NEEDS
WALL -familien er specielt designet til sundhedssektoren og omfatter PUSH, WIOR, PUSH + PULL, PUSH + PEAR, PEAR, PULL, 3PUSH, 3PUSH + PEAR, KEY, ROOM og ROOM + PEAR, der tilbyder i alt 11 enheder.
The WALL family is an advanced group of devices used to send alarms, control aisle lighting and activate electronic systems controlled by relay interaction. These products are primarily designed for use in nursing homes, hospitals and sheltered living environments.
The WALL family is divided into 11 products: PUSH, WIOR, PUSH + PULL, PUSH + PEAR, PEAR, PULL, 3PUSH, ROOM, 3PUSH + PEAR, ROOM + PEAR and KEY.
WIOR, KEY, PULL, PEAR, PUSH, PUSH + PEAR, PUSH + PULL, 3PUSH and 3PUSH + PEAR can be supplied with various functions to meet customer needs. WIOR for various wireless communications, PUSH with a button, PEAR with telejack connector, PULL with a wooden alarm and KEY with the option to deactivate one or both external inputs with a key. The functionalities can be combined in different ways. In addition, these devices have configurable buttons. For example, the red button can be used for alarm, the yellow button for presence and the green button for ready.
A device with a telejack connector has the option of connecting an external device, e.g. A bulb alarm button (PEAR) or double bulb for scenarios with two beds per. Room.
ROOM and ROOM + PEAR have a standard configuration, as these two devices have the same hardware but different firmware.
In addition, the pull cable for the PULL and PUSH + PULL transmission units has an anti-suffocation mechanism and is hypoallergenic and antibacterial.
The WALL family is available in wireless and wired mode. Wireless devices can be combined with wired devices to optimize costs in installations that have wired infrastructure capacity.
The WALL family uses a dedicated EU frequency for social alarms, adapted to the frequency reserved for the social sector in each country. These devices can be configured via radio. The WALL family works with the entire range of NEAT accessories and peripherals.
WALL Family -produkterne kan monteres i en stikkontakt eller på en væg. Hvis enheden er monteret på en væg, er det nødvendigt at bruge en overfladeboks med en højde på 13 mm.
The WIOR, PULL, PUSH, PUSH + PULL, 3PUSH and ROOM products are also available as "IP44 Ready". This means that the device combined with an IP44 surface box can be installed in areas where there is a risk of moisture and splashes, e.g. Bathrooms, swimming pools, etc., according to an IP44 rating. The IP44 surface box set is sold separately.
The surface box has a wall-adhesive gasket on the back and an insulating rubber enclosure on the inner back box, both of which are specifically designed to seal the unit and prevent water penetration.