RADIO TRANSMITTER TEMPERATURE ALARM
Reliable: Recognizes and triggers early alarm in the event of sudden, significant temperature rises
Convenient: Self-test of automatic functionality
Efficient: Only one battery for alarm and radio transmitter
Safe: Automatic monitoring of battery and radio transmitter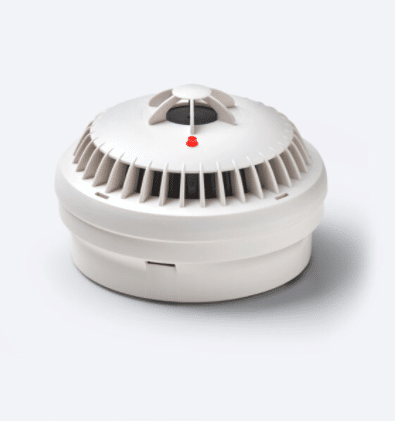 Detects extreme temperature rises
Small house (80 x 73 mm)
Easy installation (battery only)
Visual and acoustic alarm
Bidirectional transmission path
Programmable test alarm for standard and automatic functionality checks
Automatic self-test
Reliable radio communication with acknowledgment of receipt
Battery monitoring with alarm to the receiver via radio before the acoustic alarm on site
Visual display for low battery
The temperature alarm TEMP LINK warns users of sudden rising temperatures that would occur in the event of a fire.
It operates according to the tested semiconductor principle and uses optical and acoustic signals, e.g. the car phone and the service system NEO or the mobile receiver TREX.
TEMP LINK can be a good option when SMOKE S LINK cannot be used due to steam or dust pollution.
In addition, TEMP LINK can be connected to all TEMP LINKS installed on all floors of a building, so that when one of them is activated in an emergency, the rest receive a signal and are activated simultaneously.