RADIO TRANSMITTER SMOKE ALARM
Effective: Provides early warnings in case of smoke and fire
Convenient: Easy installation without drilling due to magnetic connection (optional)
Reliable: Visual and optical signal
Safe: Automatic monitoring of battery and radio transmitter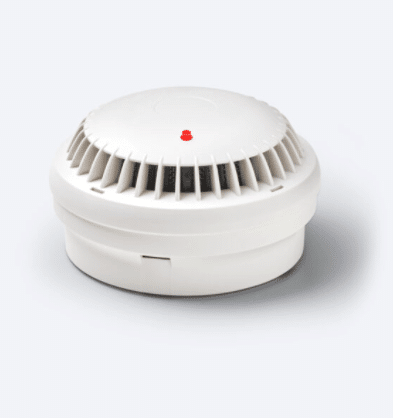 Be warned in good time: In case of smoke or fire, SMOKE S LINK warns with an acoustic and visual signal. The well-shaped and compact house fits into any environment.
Compact housing: 96 x 48 mm
Easy installation
For rooms of up to 60 square meters
The visual and optical signal
Battery alarm for alarm center before local alarm
Only one battery for alarm and radio transmitter
Lithium battery with two to three years of life
Battery monitoring for reliable operation
Bidirectional transmission path
VdS certification according to ISO EN 14604
SMOKE LINK, the radio transmitter's smoke alarm, gives an early warning in case of fire or heavy smoke. If the device detects smoke, an acoustic and optical signal is activated.
An alarm is also sent to all other NEAT receivers, e.g. NEO telephone system. Regular battery checks that give off low-performance alarms ensure reliable operation.
In addition, SMOKE LINK can be connected to all SMOKE LINK installed on all floors of a building, so that when one of them is activated in an emergency, the rest receives a signal and is activated simultaneously.
Compact housing (96 x 48 mm)

Easy installation

For rooms of up to 60 square meters

Optional magnetic attachment

Mounting without battery not possible
ERGONOMICS AND USER-FRIENDLYNESS
Battery alarm for alarm center before local alarm

Only one battery for alarm and radio transmitter

Lithium battery with two to three years of life

Acoustic and visual signaling

VdS certification according to ISO EN 14604
Automatic self-test

Reliable radio communication with acknowledgment of receipt

Battery monitoring with alarm to receiver via radio before acoustic alarm on site

Visual display for low battery

Programmable test alarm for regular and automatic functionality check