Specific: Designed primarily for the care sector.
Convenient: Call activation via a trunk
Simple: Easy to connect to external devices
Convenient: Can be mounted on a surface or socket.
Integrated: Member of the WALL family
As part of the WALL family, the PULL line switch is particularly suitable for use in the care sector: one push and one pull is enough to reliably alert the connected emergency call system.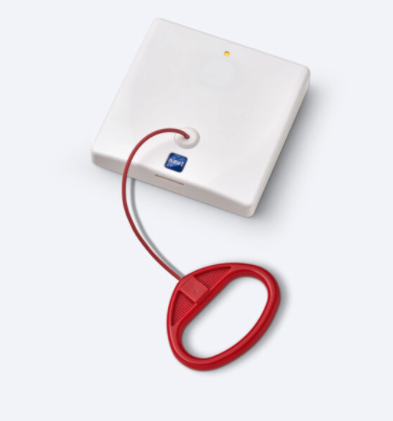 Call activation via integrated cable
Contact terminal for easy connection of external devices
Two wired inputs and outputs
Surface or level mounting
Integrated LED for status display
Eight radio transmitter channels can be established
Powered by battery or a power adapter
Battery and transmission path monitoring
Can be configured via jumper or WIOR programmer
PULL er en trådløs trækledning, der sender en alarm til et tilsluttet telekommunikationssystem med et tryk på en knap. Ud over den integrerede trækledning kan yderligere kabelforbundne opkaldsenheder integreres i systemet. Eksterne enheder kan styres i specifikke situationer via to relæudgange.
PULL kan være overflademonteret eller indbygget. Eksterne enheder kan også let tilsluttes det.
Call activation via integrated cable
Dimensions: 85 x 85 x 30 (L x A x A)
Surface mounting with frame or directly connected to an electrical outlet
Contact terminal for easy connection of external devices
Powered by battery (2 x AAA) or power adapter (10-24 V DC)
Battery status monitoring
Transmission route transmission
ERGONOMICS AND USER-FRIENDLYNESS
Integrated LED for status display
Integrated radio receiver and transmitter
Eight radio transmitter channels can be configured
Two additional entrances
Two exits
Can be configured via bridge or WIOR programmer