Easy installation and operation.
Easy battery replacement.
Early motion detection.
Person-centered care.
Intelligent door alarm (IDA).
MONITORS MOVEMENT AND DOORS
Den trådløse bevægelsesdetektor med intelligent døralarm PIR II registrerer personers inaktivitet og kan også pålideligt registrere sig som døralarm, uanset om en person har forladt et værelse eller ej.
På samme måde som et indbrudningssystem overvåger PIR bevægelsesføleren tilstedeværelsen af mennesker og registrerer deres bevægelser.Det registrerer først personens inaktivitet og udløser en passiv alarm. Hvis der ikke registreres nogen aktivitet inden for en forudprogrammeret periode, sendes en alarm til det tilsluttede nødekaldsapparat eller hjemmeplejens mobile enhed.PIR II kan også installeres til overvågning af en seng. Når brugeren står op om morgenen, sendes en alarm.
Motion sensor with intelligent door alarm
The PIR II motion sensor monitors an apartment for the presence of persons or detects their movement, just like a burglar alarm system.
For example, it detects inactivity in individuals and triggers a passive alarm. If there is no activity within a pre-programmed time, an alarm is sent to the connected emergency call system, e.g. NOVO. To indicate that the alarm has been received by the home alarm center, the PIR II LED changes from red to green.
Motion sensor for monitoring bedridden people
PIR II is therefore suitable for monitoring e.g. Bedridden people who are at risk of falling when getting up or need help getting up. PIR II can also trigger an alarm if the patient gets out of bed at night.
Intelligent door alarm with programmable input and output delay
PIR II is also equipped with a door sensor that makes it possible to monitor doors via an intelligent door alarm.
This makes it possible to reliably determine whether the person has left a room or not. For example, the system can distinguish between whether a person has left the room or whether the person is just looking out the door. In the latter case, no alarm is triggered. This also applies if a person or a caregiver enters the room. The nurse has up to 15 seconds to leave the room without triggering an alarm.
In addition, PIR II can also be configured so that the occupant can leave a room for a short time without triggering an alarm, e.g. to pick up the newspaper or empty the mailbox.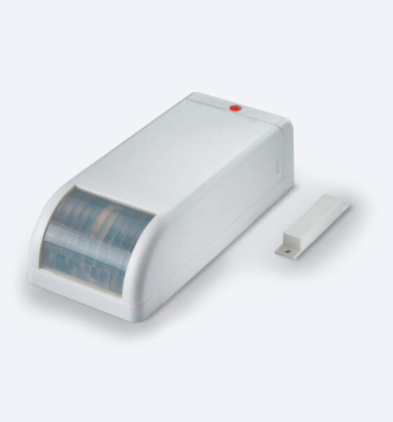 Tryghed 24 timer i døgnet
Call for help in case of unusual period of inactivity.
Increases security and optimizes costs by improving service efficiency.
Easy installation and operation
Floor or wall mounting options.
Intelligent door alarm, all functions in a single device.
Available on / off switch, which can be deactivated.
Early motion detection when the user tries to get out of bed.
Promotes personal services to improve quality of life.
Regular and automatic measurement of battery level.
Easy battery replacement.
→ PIR II sends an inactivity alarm when it has not detected movement during a programmable period.
→ The sensitivity of the sensors can be adjusted to suit each person's movement patterns. Out of bed: PIR II is especially useful for users at risk of falling when getting out of bed or those users who need help getting out of bed.
Door monitoring: IDA (Intelligent Door Alarm)
→ New innovative function in PIR II by integrating a door sensor; it is useful for monitoring whether the user has been home or gone out. If the system knows that the user is still at home, it does not send an alarm. This avoids unnecessary alarms and work for service providers caused by users looking out the door. It is also possible to give the user the opportunity to leave the room for a short errand, e.g. to pick up the newspaper without triggering an alarm.