THE DIGITAL CAREPHONE SYSTEM
Your standart for digital carephones
As 3G technology is being phased out and 2G technology is not expected to be further developed, there is a need to ensure that emergency calls from citizens are settled on 4G technology, both for data and voice communication. It can be done as a standard VoIP solution via the 4G data part, but now also via the VoLTE technology.
The NOVO VoLTE emergency caller supports 4G (LTE) technology for both data communication and voice communication (VoLTE). VoLTE works on the existing Danish 4G and 5G mobile networks.
NOVO VoLTE communicates via 4G and in situations where 4G coverage is not sufficient or unavailable, the Emergency Call automatically switches to 2G (GSM).
When 4G coverage is again sufficient or available, NOVO automatically switches back to 4G communication.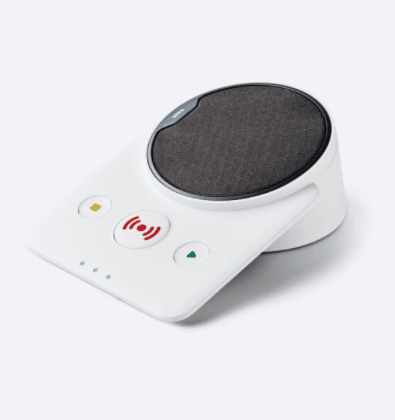 MORE TIME AND SPACE FOR CARE
The digital change in the care of the elderly is the key to more efficiency and thus also to more time in the care of each individual person. With the introduction of the first digital telecommunications system NOVO, NEAT has in 2017 established a new standard.
Enjoy all the benefits of CMP.
With the CMP license package, you benefit from all the benefits of NEAT Care Cloud. Thanks to remote updates and remote programming, you save annoying and time-consuming customer trips, for example. Handling of the accessory is also possible remotely. In addition, NEAT offers you the best possible support by phone and online.
Approval of care insurance – no. 52.40.01.1090
Free access to the CMP portal
Incl. CMP license package
NEAT M2M service – fixed rate – monthly invoicing
No activation or deactivation of M2M cards is required
PIN and APN management
Optimized national and international roaming
LAN interface for true digital voice transmission (VoIP)
Using LTE connection for VoIP
Use the 4G network when available with backup 2G
GSM module for voice transmission and modern IP protocols
Data connection to NEAT Care Cloud via mobile and fixed IP network
Possibility of several protocols (SCAIP, NEAT TALK NG and others, depending on the transmission path used)
Remote home / away
Call acceptance on the device
Message day status to CMP
Cancellation of calls on the spot
SmartLock operation (expected to be available in Q2 / 2021)
Devices available in the portal at the time of delivery because they have already been entered with NEAT (device type, serial number, mobile phone number)
Free updates in case of critical errors
Fast programming locally (offline on PC – download)
Fast programming remote control (online installation)
You always have everything monitored via our online portal CMP. In this way, any errors can be identified and corrected at an early stage.
NOVO can be conveniently controlled and remotely controlled – employees have more time for core tasks
Thanks to regular updates, NOVO always remains functional. Depending on the CMP package, malfunctions can also be resolved online.
CAN BE INTEGRATED EVERYWHERE
With its digital connection, NOVO can be easily integrated into any environment and any care scenario.
CAN BE INSTALLED WITHOUT CONTACT
With its plug & play functionality, NOVO can be delivered and installed without direct contact with the emergency call customer / citizen.
ALWAYS RELIABLE CONNECTED
The NOVO family offers the right connections for maximum reliable connection to every network and every requirement.