Specific: Primarily designed for
the care sector
Convenient: Integrated key switch
Simple: Easy to connect to external devices
Convenient: Can be mounted on the surface or
on an electrical outlet
Integrated: Member of the WALL family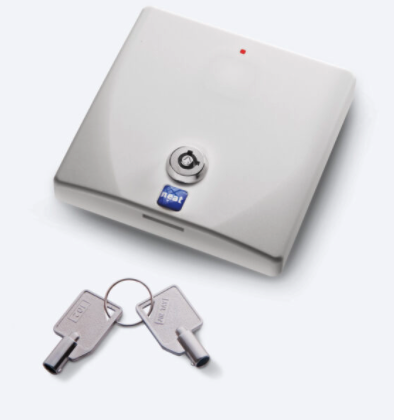 Med integreret radiomodtager og afsender samt lad tilslutning af eksterne enheder er KEY -nøglekontakten og ideel alternativ til specielle applikationer inden for ambulant eller ambulant behandling.
The key switch KEY, is suitable for both outpatient and outpatient use, makes it possible to turn functions on and off with a key.
The key switch communicates directly with KEY's input as well as with Port 2. This makes it possible to activate or deactivate programmed behavior patterns in transmitter reception or activities on one of the inputs.
Integrated key switch
Unscrew terminal block so that external devices can be easily connected
With two wired inputs and outputs
Surface or surface mounted
Integrated LED for status display
Eight radio transmitter channels can be tuned
Powered by battery or external network component
Battery and transmission path monitoring
Can be configured via jumper or
WIOR programs
Integrated key switch
Size: 85 x 85 x 30 (L x W x H)
Surface mounting with frame or directly on the built-in socket
Unscrew terminal block so that external devices can be easily connected
ERGONOMICS AND USER-FRIENDLYNESS
Integrated LED for status display
Integrated radio receiver and transmitter
Eight radio transmitter channels can be tuned
Two entrances
Two exits
Can be configured via jumper or WIOR programs
Powered by battery (2 x AAA) or external network component (10-24 V DC)
Battery status monitoring
Transmission route transmission