The radio transmitter for monitoring wired inputs and outputs
Convenient: Compact, small house
Variety: Outputs programmable in three modes
Comprehensive: Receives signals from up to eight radio transmitters
Reliable: Battery powered in case of power failure
With the radio box for wired inputs, wiring components or radio signals can be monitored. When one of the five inputs is activated, the IOR sends a radio signal to e.g. NEO, NOVO or TREX.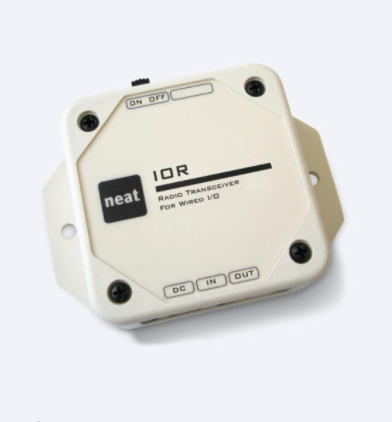 Compact dimensions: Only 89 x 63 mm
Receives signals from up to eight radio transmitters
Five potential-free outputs and one relay output
Output can program in pulse, switch and static mode
Can program manually or with PC
Output can also be controlled via NEO
Battery operated in case of power failure
Battery monitoring and power failure alarm
Regular test alarm for receiver to
functional monitoring
Reliable radio communication via two-way transmission path
The IOR monitors wired components and radio signals. If one of the cable inputs is activated, the IOR sends a signal to devices such as NEO or TREX. If the IOR itself receives a pre-programmed signal, it triggers the output.
IOR is suitable for use with up to five digital inputs and one output. The output can be programmed in pulse, switch and static mode. This unit is regularly monitored via transmission of a test alarm.