The radio transmitter for the cable inputs
Compatible: Easy integration of other NEAT devices with radio transmitter
Variety: Digital and analogue connections
Precise alarm is triggered when the threshold value is reached
Flexible: Battery or power adapter mode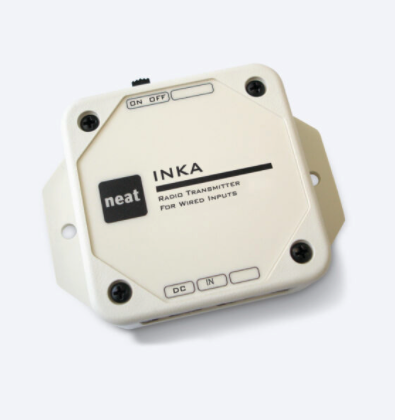 With the compatible INKA radio box, wired third-party devices can also be easily integrated and monitored in the NEAT world. INKA offers digital and analogue connections.
Overview of features and functions
Compact dimensions: Only 89 x 63 mm
Digital and analog connection possible
Five inputs for potential-free contacts, including two that can be used to measure the threshold value (V)
Powered by adapter or plug component
Very high battery life (> five years depending on usage)
Battery operated in case of power failure
Battery monitoring and warning in case of power failure
Regular test alarm for receiver for function monitoring
Reliable radio communication via two-way transmission path
The multifaceted INKA auxiliary unit monitors switches connected by cable. It processes both digital and analog signals. If an input is triggered, INKA sends a radio signal to the receiver. INKA is suitable for use with up to five inputs.
Two of these can be programmed to measure thresholds. The inputs used for measurement can continuously monitor levels or determine a measurement if one of the switches has tripped.
INKA radio transmission box with batteries