Top-class professional unit
Unobtrusive

Discreet

Reliable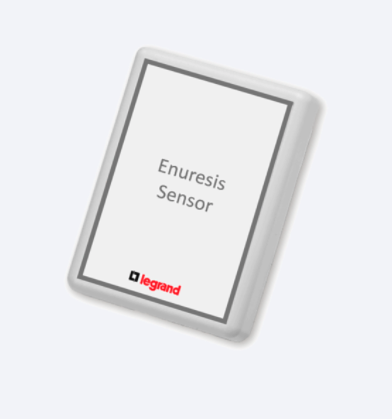 The enuresis sensor is the perfect solution for detecting an episode of incontinence with comfort and discretion.
Detects cases of incontinence at the bedside

Compatible with Reach IP and Advent XT2

Battery-powered radio interface unit

1.2 m x 0.9 m sheet in cotton sensor

2 m connection cable with zippers

Replaceable battery: 9V Duracell

MN1604 Low battery warning

Operating temperature: + 5oC to + 40oC

Telecare transceiver: 869.2125MHz class 1.5

Digital heartbeat

Weight: 170 grams

Dimensions: 92 x 66 x 28 mm (HxWxD)
Bedwetting is intermittent urinary incontinence that occurs during sleep. The bedwetting sensor is designed to detect when someone is making the bed damp. If bed wetting is detected, the bed wetting sensor sends an alarm call which is sent to the local manager or monitoring center. This device saves nursing staff from having to carry out periodic inspections, which can be intrusive and inconvenient. Its absorbent cotton layer with breathable waterproof backing is the perfect solution for detecting an incontinence episode in comfort and discretion. The sheet is machine washable and its long life is guaranteed by the very fine silver-plated sensor wires.