Integrated: Optimally designed for use with the NOVO ecosystem
Specific: Specially designed for adults
Reliable: Medically tested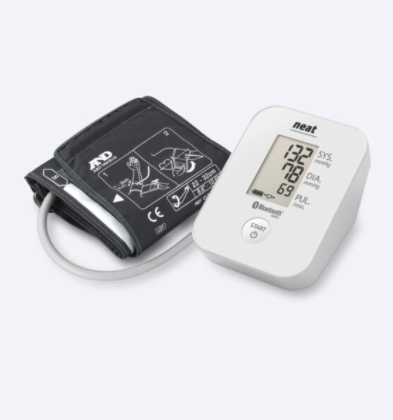 With the blood pressure monitor, both systolic and diastolic blood pressure are reliably determined and transmitted to NOVO via Bluetooth. The data can also be evaluated via an app.
CHARACTERISTICS AND FUNCTIONS
Quick and easy measurements
Easy operation with one button for fast and accurate measurement
Send your measurements wirelessly via Bluetooth® to your supported phone / tablet
Easy to share with family or healthcare providers
Clinically validated for accuracy
Indicates irregular heartbeat (IHB) during a measurement
Pressure Rating Indicator classifies blood pressure according to medically approved standards
Easy to use between cuffs (fits 9-14.6 "arms)
Gentle inflation allows for a more comfortable measurement
Carrying case included
Battery life indicator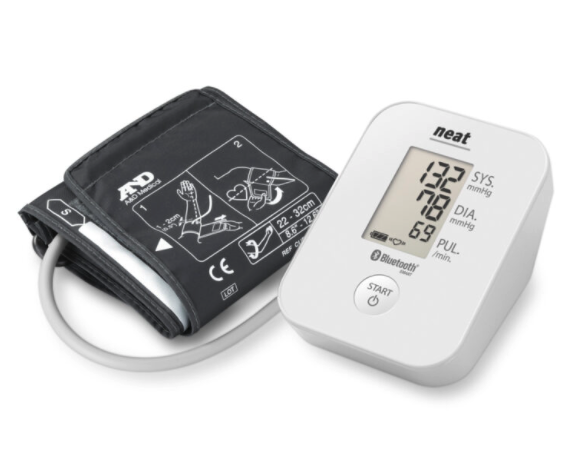 A blood pressure monitor measures the patient's arterial pressure. The device displays the upper or systolic pressure and the lower or diastolic pressure. This blood pressure monitor is one of the most advanced monitors available and is designed for ease of use and accuracy, and it facilitates your daily blood pressure regimen. It automatically detects and tracks measurements via the mobile app to enable trend and sharing.
Patients: Adults
Measurement Accuracy: Pressure: ± 3 mmHg / Pulse: ± 5%
Clinical trial: European Society of Hypertension Protocol
Cuff Size: Medium (9-14.6 ")
Unit dimensions (WxDxH, inches): 3.8 "x 5.1" x 2.7 "
Weight (lbs.): 1.52 lbs.
Number of users: Single-user monitor interface, but more users via the A&D Connect app
Memory: 30 offline, unlimited via the A&D Connect App
Measuring range:
Pressure 20 – 280 mmHg
Systolic pressure 60 – 279 mmHg
Diastolic pressure 40 – 200 mmHg
Pulse 40 – 180 beats / min
Power supply: 4 x 1.5V batteries AA or
AC adapter (TB: 233 – sold separately)
Number of measurements (battery): 700 measurements
Wireless communication: Bluetooth® Ver. 4.0LE BLP
Brand: A&D
Model: UA-651BLE
Blood pressure monitor
Bilingual instruction manual (English and Spanish)
Quick start card
Carrying case
Blood pressure monitor
Bilingual instruction manual (English and Spanish)
Quick start card
Carrying case
4 – 1.5V AA batteries4 – 1.5V AA batteries% MCEPASTEBIN%