THE BED SENSOR WITH EPILEPTIC ATTACK RECOGNITION
Flexible: Alarm intervals from 10 seconds to 90 minutes can be set
Comfortable: Ultra-flat, undetectable sensor
Effective: Low false alarm rate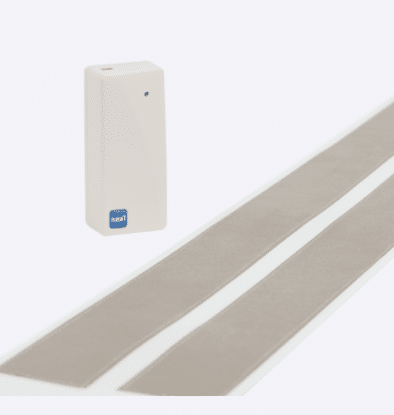 MONITORING OF EPILEPTIC PATIENTS
The ultra-flat and therefore imperceptible bed sensor BED is an ideal solution for the treatment of epilepsy patients. The sensor detects even the slightest movement and also monitors heart rate and breathing.
CHARACTERISTICS FOR BED SENSOR
Dimensions: 310 x 630 x 10 mm
Alarm intervals from 10 seconds to 90 minutes can be set
Suitable for tonic-clonic seizures (epilepsy)
Detects a person's absence from the bed
Most up-to-date technology, monitors heart rate, breathing and movement
Low false alarm rate
No weight restrictions
Acoustic alarm with adjustable volume level
Radio transmission of alarm
Patients with epilepsy or dementia require special dedicated care: Every unattended moment can be a danger.
BED recognizes the slightest movements of a person sitting or lying on it; it can even record the individual's heart rate and breathing.
If the sensor no longer detects any movement, the controller indicates that the person has left the bed. The time difference between the person leaving the bed and the alarm message can be determined individually with delays of between 10 seconds and 90 minutes. The device distinguishes between live and non-live weights.
Dimensions: 310 x 630 x 10 mm
Alarm intervals from 10 seconds
to 90 minutes can be set
Very thin sensor, not noticeable by the caregiver
Can be used under mattress
Stable, does not contain switch
Not sensitive to liquids
ERGONOMICS AND USER-FRIENDLYNESS
Monitors heart rate, breathing
and movement

No weight restrictions

Variable output power
Acoustic alarm with adjustable
volume level

Reliable radio communication with
receipt confirmation

Low false alarm rate

Battery monitoring with alarm for the receiver

Programmable test alarm for regular and automatic functionality checks
Bed mat with control unit

Radio transmitter box including adapter plug component